SAM 4S 265
This entry-level cash register features:
15 programmable departments
thermal printing
a flat, spill-resistant keyboard
and a full-size heavy duty cash drawer
customizable receipt logo/description
With it's unique black cabinet, this till will complement retail and bar environments, and is specifically designed for simple & quick sales.The Sam4s ER 265 also features a keyboard template that we will customize to your specific needs, making it easy to use and see.You can place up to 15 departments on the template along with whatever function keys you require. Discounts, Cash, Charge, No Sale, PO, RA and more. Plus this till features an alpha overlay, making any future changes very simple.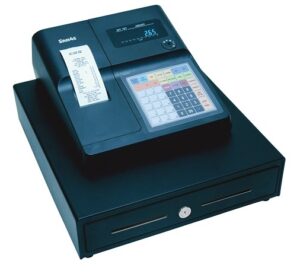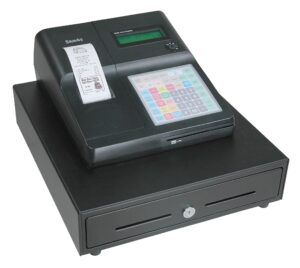 SAM4S ER 285M
Low cost, flat keyboard ECR with high speed thermal printing that can utilize a barcode scanner.
The ER-285M is a commercial grade ECR featuring a full size heavy-duty steel cash drawer, POS-grade thermal printer, and key lock security for voids returns and reports. Two RS-232 communications ports for peripherals Kitchen Printer, Bar Code Scanner, Scale or Pole Display. An electronic journal captures transaction information and features 60 PLU category keys on the keyboard.
SAM4S ER 900
SAM4s has released the ER-900 Series cash register, multi-use ECR. The ER-900 series cash register offers a fast, reliable and quiet thermal printing in either a single-station model with electronic journal or a dual-station model with receipt and real-time journal.
Drop-in paper loading simplifies paper changing and virtually eliminates paper jamming. The large two-line LCD operator screen is easy to read. As SD port is concealed under the printer cover to allow for easy upgrades without the risk of tampering.
For top notch communication with peripherals, four serial ports are hidden behind a convenient access door for connectivity without clutter. This cash register can be used in any environment.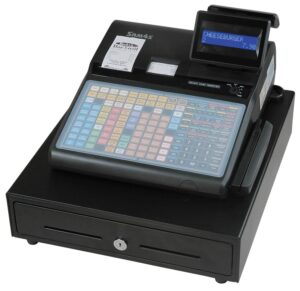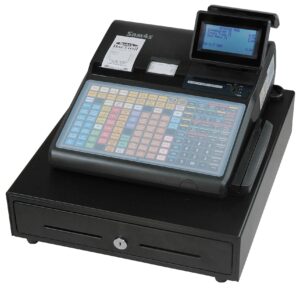 SAM 4S SPS300
This brand new cash regsiter replaced the very succesful Sam4s 650. You can choose a flat keyboard model for food service or a raised keyboard model for retail environments. On screen programming simplifies setup and makes changes easy to manage after installation. Connects to popular POS peripherals like scanner, slip printers and remote printers. Interconnect multiple units to consolidate your sales and share access to peripherals.
Best Applications, Food Service: Quick Service, Sandwich, Deli, Kiosks, Cafeteria, Ice Cream, Retail Merchants Especially Retail Scanning • Simple Franchise Concepts• Parks, Stadiums, Convention Centres And Other Venues With Many Concession Locations. This cash register also has a 8 line display with running balance and tax totals, making it easy to keep track of what you are doing at all times.
SAM4POS
The SAM4POS application may easily be configured for your food, beverage, or retail business to provide the functions and options you need to meet your point of service needs.
Using robust integrated SAM4POS software, your authorized SAM4s dealer can customize the application to meet your specific needs by choosing from an array of features available for food and retail operators.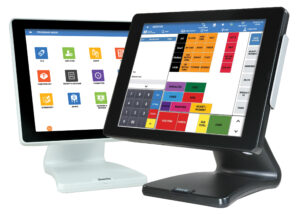 We Offer Free Paper Delivery Every Tuesday and Thursday!
Within Calgary City Limits