The MMF Advantage™ Series; Your NEW competitive edge! The Advantage™ Cash Drawer with media slots comes standard with the patent pending LockIt™, a fully-integrated, secure cash drop compartment. Cashiers can secure cash quickly, even within the transaction.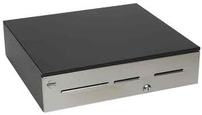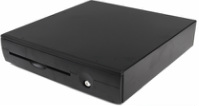 The UnyPOS LT Cash Drawer is our favorite POS fired cash drawer. It has full metal money clips, included locking lid, made in Canada and included a POS cable for every printer we have ever tried it with.
The M-S Cash Drawer Smart Series features an all steel construction, creating a secure and sturdy solution for your money handling needs. This drawer has the versatility and space-saving design essential for installation in most point of sale stations.
15.9″ (W) X 16.7″ (L) X 4.47″ (H)

The CBM #5 manual cash drawer features Push button release and key locking mechanism with five bill compartments and adjustable coin dividers. Heavy duty 20 gauge steel construction,
mounting holes and hardware included for easy under counter installation, dual media slotted till front. This is a heavy duty use cash drawer.
The MS HP-122N Cash Drawer is a manual cash drawer with all steel construction and a stainless steel front.. The latch mechanism is rated for over 1 million cycles, ensuring many years of service for even the busiest of operations.
18.8″ W X 15.2″ L X 4.58″ H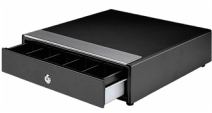 The MS HP-123N is the industry standard high volume cash drawer. The MS drawer is an ideal cash drawer for mobile sales such as concessions or festival merchandise booths & VLTs
15.9″ W X 16.7″ (L) X 4.46″ (H)
We Offer Free Paper Delivery Every Tuesday and Thursday!
Within Calgary City Limits